Who we are, what we do and why it matters
Our regional role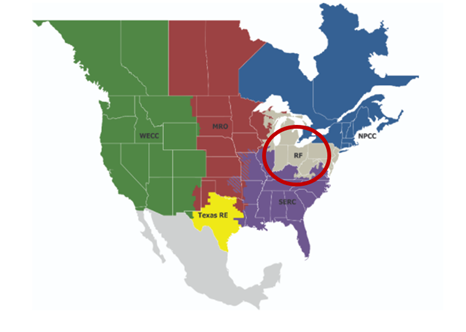 ReliabilityFirst (abbreviated RF) is one of six regional organizations responsible for ensuring the reliability and security of the North American Bulk Electric System. Under the authority of the North American Reliability Electric Corporation (NERC) and the Federal Energy Regulatory Commission (FERC), we audit utility companies on mandated standards related to cybersecurity, vegetation management near vital power lines, preparation for extreme weather and more.
We also promote the reliability and security of the electric grid through outreach and training to these companies on best practices and conduct our own analysis and projections related to resource planning and more, serving as an independent source state bodies call on for input on energy policy decisions.  
We work in tandem with the North American Electric Reliability Corporation (NERC) and the five other regions, MRO, NPCC, SERC, Texas RE and WECC toward this shared mission. This system was born out of the Energy Policy Act of 2005, which followed the 2003 Northeast Blackout.
Our footprint
We are responsible for the reliability and security of the bulk electric system in the Great Lakes and Mid-Atlantic areas of the United States of America.  
Our footprint includes all or portions of Delaware, New Jersey, Pennsylvania, Maryland, Virginia, Illinois, Wisconsin, Indiana, Ohio, Michigan, Kentucky, West Virginia, Tennessee, and the District of Columbia. 
This region is situated within the Eastern Interconnection, and we regulate both PJM and MISO, which are the two regional transmission organizations in our footprint.  
Our offices are located in Cleveland, Ohio.  
Our mission and values
Our mission is to ensure that the electric grid is reliable and secure – not only for today but also for tomorrow. Our team identifies and prioritizes risks facing the electric grid and we then determine mitigation strategies to work with utility companies to address these risks, both proactively and through enforcement of the mandated standards. We also develop and deploy communication and outreach strategies to drive awareness and further ensure risk resolution. 
Our mission: To serve the public good and support health and safety through preserving and enhancing the reliability, security and resilience of the grid.
Our people: To foster a respectful, collaborative environment where employees can be and feel like the best version of themselves.
Our transparency: To be open and honest about what we are trying to accomplish, and why, to foster productive dialogue.
Our fairness: To be reasonable and consistent.
Our accountability: To act with integrity, take pride in our work and responsibility for our actions, and deliver exceptional results.
Our creativity: To encourage and reward innovative ideas and approaches.
Why this work matters
The electric grid is the backbone of our economy, critical for our national security, and necessary to support the public welfare, including operation of life-saving hospital equipment and heating and cooling our homes during the calendar's coldest and hottest days. A reliable and secure electric grid is more than just making sure the lights stay on – it's fundamental to our most basic daily needs and routines.   
ReliabilityFirst exists to serve the public first and foremost. All the work we do is in the name of preserving North Americans' day-to-day way of life that relies so heavily on electricity.  
We collaborate with the utilities in our footprint to proactively help them follow best practices beyond compliance with the mandated standards, but also for the overall reliability and security of the grid.  
We also work with state governments and energy offices, recognizing that their policy decisions play a key role in "the great energy transition" – managing the shift from a grid powered by traditional energy sources like coal, oil and gas to the integration of more renewable generation, like solar and wind. We serve as an independent resource these state-level decision-makers call on for input on grid reliability and security matters.  
Beyond these core audiences, our work is also interconnected with external players from other industries. This includes other critical infrastructures, like water, gas and communications, federal agencies, law enforcement, trade associations and beyond.